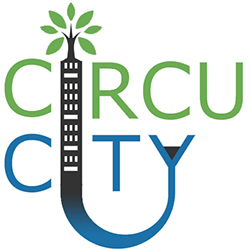 Are you looking for a great activity that gets you tuned in on sustainability and circular cities? Are you curious to see how other students from around the globe complement your insights with their multidisciplinary backgrounds? Then CIRCU-CITY might just be your deal!
Join us on this incredible journey of discovering the potential of circular cities and uncovering innovative sustainable solutions that shape the future of urban living.
About CIRCU-CITY
At CIRCU-CITY, we bring together students from diverse backgrounds and countries, each contributing with their unique insights and expertise. Through our multidisciplinary approach, you'll have the opportunity to collaborate with like-minded individuals, fostering a dynamic environment of knowledge sharing and innovation.
Whether you've always dreamed of transforming a city into a model of sustainability or you simply have a curious mind eager to explore new circular possibilities and discover new tools to asses circularity such as material flow analysis (MFA) and Multicriteria decision analysis (MCDA), CIRCU-CITY is the perfect deal for you!
You will be trained in novel solutions for sustainable circular cities, with a strong focus on the role of:
Renewable energy
Urban planning
Mobility
Sustainable water management
Food systems
Information and data collection/management in a society
FORMAT

Blended approach: online classes, topped by a week on campus
3 ECTS upon successful completion, plus certificate of participation
CALENDAR

Online classes (max 30 hours)
TIME

Online classes: live (recordings available)
On campus week: Every day from 9AM – 5PM
(GMT+1 time zone)
APPLICATIONS

Applications are currently closed.
TUITION FEE

FREE
Students from partner universities can apply for an Erasmus+ grant to cover their mobility in Ghent (travel + stay)
WHO?

Students from partner universities enrolled in a Master programme or >3rd year Bachelor familiar with a background in at least one of the following: energy, water and waste management, food, urban planning, and economics