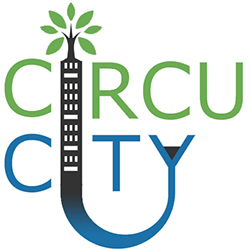 Are you looking for a great activity that gets you tuned in on sustainability and circular cities? Always wanted to re-think a city and improve its carbon footprint? Are you curious to see how other students from around the globe complement your insights with their multidisciplinary backgrounds? Then this Circular Cities summer school might just be your deal!
About the Circular Cities summer school
This summer school is organized with the partner universities:
Ghent university, Belgium
Universitat Politècnica de València, Spain
Georg-August-Universität Göttingen, Germany
L'Institut Agro Rennes-Angers, France
Mendelova univerzita v Brně, Czech Republic
During this summer school, you are trained in novel solutions for sustainable circular cities, with a strong focus on the role and use of water, energy and raw materials in the transition movement.
Training sessions alternate with a multi-day tournament. In small multidisciplinary groups (5 students/group) you are challenged to re-design a city district, while dealing with imposed scenarios and challenges on water, energy, food, waste, and urban planning (including socio-economic aspects).
The 2022 edition is organised in a blended format: a series of online lectures leads to an immersive week in Ghent. Check the programme for more details
FORMAT

Blended approach: online classes, topped by an immersive week on campus (Ghent, Belgium)
Students enrolled at partner universities will obtain 3 ECTS upon successful completion, plus a certificate of participation
CALENDAR

Online classes in August (max 30 hours)
Immersive week: 5-10 of September 2022
TIME

Online classes: live classes, recordings available
Immersive week: Every day from 9AM – 5PM, Saturday 10, 9AM – 12PM
(GMT+1 time zone)
APPLICATIONS

Applications are temporarily closed
Deadline June 27
TUITION FEE

FREE summer school
Students from partner universities can apply for an Erasmus+ grant to cover their mobility in Ghent (travel + stay)
WHO?

Students from partner universities enrolled in a Master programme or >3rd year Bachelor familiar with a background in at least one of the following fields: energy, water and waste management, food, urban planning, and economics